Vessel Schedule
Kindly be reminded that all the information shown here is for consultation purposes only. It is invalid for legal or commercial claims.
The arrival times are estimated, so KFTL assumes no responsibility for the accuracy of the
data presented. To receive the most up-to-date information it is advised to consult with the respective shipping lines.
Last Modified: February 07 13:30 am by admin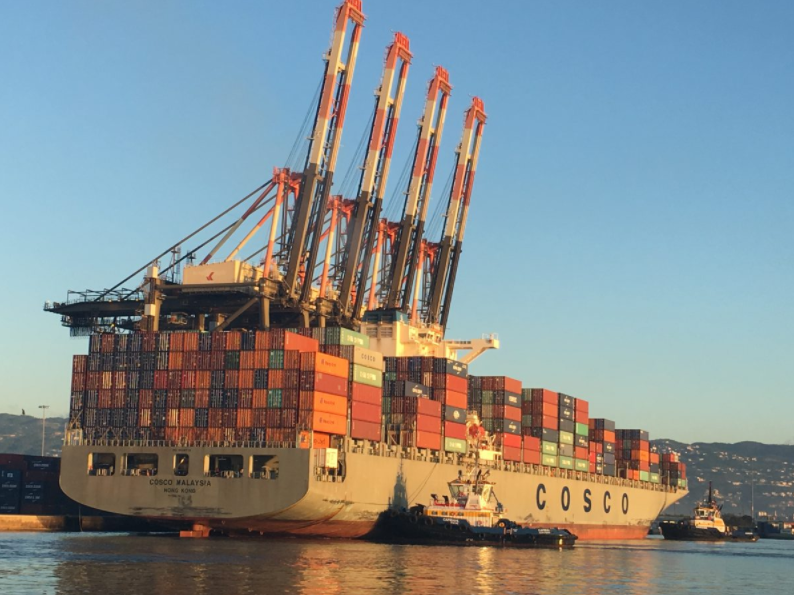 | | | | | | | | | |
| --- | --- | --- | --- | --- | --- | --- | --- | --- |
| Vessel Name | Vessel | ETA | ETD | ATA | ATD | I/B Vyg | ReeferCutoff | DryCutoff |
| ZIM ROTTERDAM | ZTD | 22-Feb-13 2300 | 22-Feb-14 2300 | | | 65W | | |
| CFS HORIZON | CFHRZ | 22-Feb-13 2300 | 22-Feb-14 2300 | | | 83 | | |
| CMA CGM FORT FLEUR D' EPEE | CGFEP | 22-Feb-13 2300 | 22-Feb-15 0700 | | | 0DRDVN1MA | | |
| AS FIORELLA | ASFIO | 22-Feb-13 1500 | 22-Feb-14 0700 | | | 312N | | |
| ARIES | ARIES | 22-Feb-13 1500 | 22-Feb-14 0300 | | | 1 | | |
| NADJA | NADJA | 22-Feb-13 1500 | 22-Feb-14 1500 | | | 0CA7PN1MA | | |
| CONTSHIP LEO | C3L | 22-Feb-12 1500 | 22-Feb-13 0700 | | | 25N | | |
| MATHILDE SCHULTE | MASCH | 22-Feb-12 1500 | 22-Feb-13 2300 | | | 0HK3QN1MA | | |
| PACIFIC TRADER | PACTR | 22-Feb-12 1000 | 22-Feb-12 2300 | | | 66 | | |
| SEATRADE GREEN | STGRE | 22-Feb-12 0900 | 22-Feb-12 2300 | | | 0RP9VS1MA | | |
| VEGA SACHSEN | VESAC | 22-Feb-12 0700 | 22-Feb-13 0300 | | | 111N | | |
| TIANPING | VF1 | 22-Feb-12 0700 | 22-Feb-13 0700 | | | 27W | | |
| FALMOUTH | FALMT | 22-Feb-11 2300 | 22-Feb-12 1500 | | | 72 | | |
| ALTAMIRA EXPRESS | ALTEX | 22-Feb-11 0200 | 22-Feb-11 2300 | | | 01W03 | | |
| KATHERINE | KTHNE | 22-Feb-10 2300 | 22-Feb-11 2300 | | | 0DVBCS1MA | | |
| AS FELICIA | AF3 | 22-Feb-10 2300 | 22-Feb-11 1500 | | | 38N | | |
| NORTHERN DEBONAIR | NTDEB | 22-Feb-10 2300 | 22-Feb-12 0700 | | | 0GBAWN1MA | | |
| CONTSHIP ICE | WOB | 22-Feb-09 2300 | 22-Feb-10 1500 | | | 45S | | |
| POLYNESIA | PLYSA | 22-Feb-09 2300 | 22-Feb-10 2300 | | | 0UAAYN1MA | | |
| NORTHERN DELEGATION | NTDEL | 22-Feb-09 2300 | 22-Feb-10 2300 | | | 013N | | |
| CONTSHIP PRO | CSPRO | 22-Feb-09 2120 | 22-Feb-10 1320 | | | 0NG7ZS1MA | | |
| BF LETICIA | BFLET | 22-Feb-09 1500 | 22-Feb-10 0700 | | | 0CA7QS1MA | | |
| FALMOUTH | FALMT | 22-Feb-09 0540 | 22-Feb-09 2140 | | | 71 | | |
| CMA CGM FORT DE FRANCE | CGFRE | 22-Feb-08 1500 | 22-Feb-09 1500 | | | 0DRDTN1MA | | |
| JANINA | JNINA | 22-Feb-08 1500 | 22-Feb-09 1500 | | | 0CA7NN1MA | | |
| HSL NIKE | HSIKE | 22-Feb-08 1100 | 22-Feb-09 0300 | | | 203S | | |
| KALAMATA TRADER | KAMTD | 22-Feb-07 2300 | 22-Feb-09 0700 | | | 0HK3VS1MA | | |
| CONTSHIP PAX | COPAX | 22-Feb-07 1500 | 22-Feb-08 0700 | | | 0AG8DS1MA | | |
| APL SALALAH | APSAA | 22-Feb-07 1500 | 22-Feb-10 1500 | | | 0PPBCW1MA | | |
| GREEN STAR | GSTAR | 22-Feb-06 2300 | 22-Feb-07 2300 | 22-Feb-06 2030 | | 53 | | |
| CONSTANTIA | CONST | 22-Feb-06 2300 | 22-Feb-07 2100 | 22-Feb-06 2115 | | 04W02 | | |
| TAMPA TRADER | TPTRA | 22-Feb-06 2205 | 22-Feb-07 1300 | 22-Feb-06 2140 | | 0AG8BS1MA2 | | |
| PERITO MORENO | PEMNO | 22-Feb-06 1900 | 22-Feb-07 2300 | 22-Feb-06 0046 | | 0ER4RN1MA2 | | |
| SC MARIGOT | SCMGO | 22-Feb-06 1500 | 22-Feb-08 0700 | 22-Feb-06 1315 | | 0UAAWN1MA | | |
| TAMPA TRADER | TPTRA | 22-Feb-06 0300 | 22-Feb-07 0700 | 22-Feb-06 0235 | 22-Feb-06 2255 | 0AG8BS1MA | | |
| CMA CGM VENTANIA | CGVEN | 22-Feb-05 2300 | 22-Feb-06 2300 | 22-Feb-05 2250 | 22-Feb-07 0052 | 0NG8BS1MA | | |
| CONTSHIP EVE | CSEVE | 22-Feb-05 2300 | 22-Feb-07 1400 | 22-Feb-05 1910 | | 0NGSXR1MA | | |
| TIANJIN | JTJ | 22-Feb-05 2300 | 22-Feb-06 1630 | 22-Feb-05 2245 | 22-Feb-06 1814 | 42E | | |
| HAMBURG TRADER | HBGTD | 22-Feb-05 1900 | 22-Feb-06 2300 | 22-Feb-05 1820 | 22-Feb-07 0218 | 0AG8AN1MA | | |
| X-PRESS SHANNON | XPSHN | 22-Feb-05 0700 | 22-Feb-05 2300 | 22-Feb-05 0430 | 22-Feb-05 2245 | 12 | | |
| PERITO MORENO | PEMNO | 22-Feb-05 0700 | 22-Feb-06 0700 | 22-Feb-05 0700 | 22-Feb-06 0045 | 0ER4RN1MA | | |
| VEGA VELA | VGVEL | 22-Feb-04 2300 | 22-Feb-05 1500 | 22-Feb-04 2215 | 22-Feb-05 1225 | 22004S | | |
| MARY | MARRY | 22-Feb-04 2300 | 22-Feb-05 2300 | 22-Feb-04 2150 | 22-Feb-06 0108 | 0DVAXS1MA | | |
| ASIAN TRADER | ASTRA | 22-Feb-04 1500 | 22-Feb-04 2300 | 22-Feb-04 1400 | 22-Feb-04 2306 | 54 | | |
| CONTSHIP PRO | CSPRO | 22-Feb-04 0700 | 22-Feb-05 0700 | 22-Feb-04 0625 | 22-Feb-05 1031 | 0NG89S1MA | | |
| GSL AMSTEL | GSAML | 22-Feb-03 2300 | 22-Feb-04 1900 | 22-Feb-03 2145 | 22-Feb-04 2335 | 0YK0PN1MA | | |
| BOMAR PRAIA | BOPRA | 22-Feb-03 2300 | 22-Feb-05 0700 | 22-Feb-03 2100 | 22-Feb-05 1602 | 0GBAUN1MA | | |
| CONTSHIP ICE | WOB | 22-Feb-03 2200 | 22-Feb-04 1500 | 22-Feb-03 1145 | 22-Feb-04 1547 | 45N | | |
| EXPRESS FRANCE | EXPFR | 22-Feb-03 1500 | 22-Feb-04 0700 | 22-Feb-03 1520 | 22-Feb-04 1500 | 0GBB7S1MA | | |
| ARIES | ARIES | 22-Feb-03 0700 | 22-Feb-04 1100 | 22-Feb-03 0500 | 22-Feb-04 1153 | - | | |
| CONTSHIP LEO | C3L | 22-Feb-03 0300 | 22-Feb-04 0700 | 22-Feb-02 1535 | 22-Feb-04 0444 | 24N | | |
| NADJA | NADJA | 22-Feb-02 1100 | 22-Feb-03 0900 | 22-Feb-02 0900 | 22-Feb-03 0957 | 0CA7OS1MA2 | | |
| CMA CGM SAMBHAR | CGSAH | 22-Feb-02 0700 | 22-Feb-03 1800 | 22-Feb-02 0045 | 22-Feb-03 1950 | 0DRDRN1MA | | |
| CMA CGM CALLAO | CGCAO | 22-Feb-02 0700 | 22-Feb-03 1300 | 22-Feb-02 0715 | 22-Feb-03 1331 | 0ER4PN1MA | | |
| CFS WIND | CFSWI | 22-Feb-02 0500 | 22-Feb-03 1500 | 22-Feb-01 1245 | 22-Feb-03 1653 | 106 | | |
| NADJA | NADJA | 22-Feb-01 2300 | 22-Feb-02 0700 | 22-Feb-01 2115 | 22-Feb-02 0732 | 0CA7OS1MA | | |
| X-PRESS SHANNON | XPSHN | 22-Feb-01 1450 | 22-Feb-02 0700 | 22-Feb-01 1140 | 22-Feb-02 0926 | 11 | | |
| ALEXANDRA | ALXDA | 22-Feb-01 0400 | 22-Feb-02 0300 | 22-Feb-01 0450 | 22-Feb-02 1320 | 0DVAVS1MA | | |
| ORINOCO | ORINO | 22-Jan-31 2300 | 22-Feb-01 1500 | 22-Feb-01 0020 | 22-Feb-01 2138 | 22001S | | |
| ZIM WILMINGTON | UQM | 22-Jan-31 2300 | 22-Feb-01 1500 | 22-Jan-31 2215 | 22-Feb-01 1830 | 5E | | |
| AS FLORIANA | ASFLO | 22-Jan-31 1450 | 22-Feb-01 0700 | 22-Jan-31 1028 | 22-Feb-01 1046 | 22 | | |
| MICHELANGELO TRADER | MCOTD | 22-Jan-31 0700 | 22-Feb-01 0700 | 22-Jan-31 0630 | 22-Feb-01 0927 | 0EL6TS1MA | | |